A SAFETY Beach and Dromana residents' group is ramping up its campaign for quieter freeways following a meeting of 120 residents, Thursday 16 June.
Tyred of Noise on the Mornington Peninsula Freeway group's Wayne Ashley said the meeting "went really well given the cold weather".
"Nepean MP Martin Dixon spoke well and encouraged residents to contact him, VicRoads, the Roads Minister and Mornington Peninsula Shire about the noise," he said.
"I have a petition signed by most of the people at the meeting."
Mr Ashley said VicRoads had declined to attend "but they have signalled a clear intention to meet with concerned residents to discuss noise testing and options to abate the noise".
He said VicRoads had agreed to set up noise reading stations along the route to monitor noise all day and night over one week.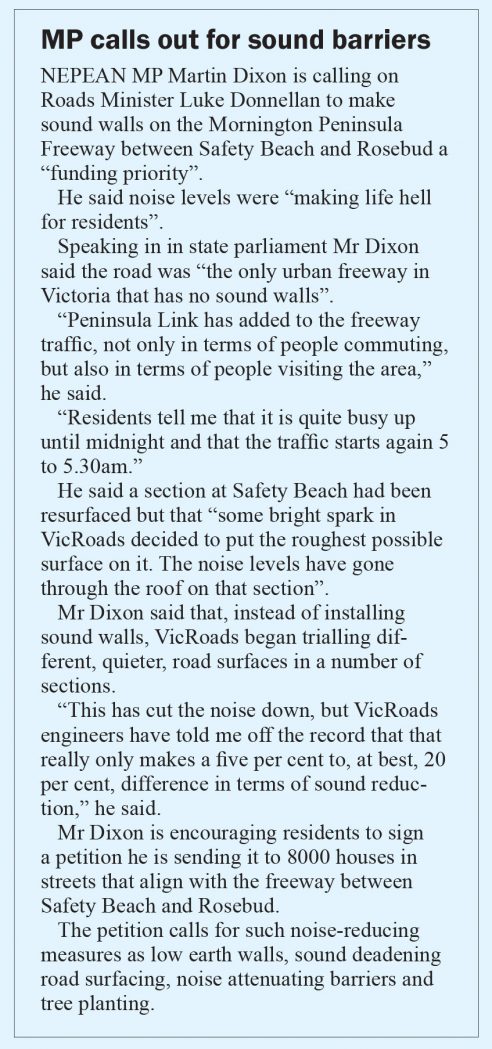 "This is a welcome approach as this promise of action on noise from traffic has been going on since 2001 – well before the Mornington Peninsula Freeway's linking to Peninsula Link [in 2011] and increased traffic."
Mr Ashley said the freeway was not designed to carry "the massive amount of traffic" it does now.
"There has been an increase in traffic movement and noise levels starting as early as 5am and not stopping until well into the night," he said.
"It has become a noise and visual hazard to the lifestyle of residents at Safety Beach and needs to be abated."
Mr Ashley said incomplete traffic modelling in 2011 to gauge how the road would cope had caused the problem.
"VicRoads' modelling only ran 6am-11pm – yet we have residents who are sick of traffic noise from as early as 5am from transport trucks and tradies roaring up the freeway," he said.
"The problem is exacerbated by the road being higher than the surrounding residential land, meaning the noise is louder and travels further, and with no noise-abatement measures included."
Mr Ashley said the group would push for 80kph speed limits from Island Drive to McCrae "until the noise reduction works are completed".
"The action group is pleased that Vic Roads has identified it is an issue for all residents. It is becoming an environmental issue, too, in relation to noise and the quality of life for residents and retirees."
Mr Ashley said the freeway had been "neglected by all authorities, state, local and VicRoads for too long and should be upgraded to meet the standards set for all new road works".
First published in the Southern Peninsula News – 5 July 2016